15 Best Places To Live in Mexico For Expats in 2023
With millions of expats estimated to live there, Mexico is one of the leading destinations for United States (US) citizens seeking to live abroad. But those with their sights set on this incredibly vast and diverse country often wonder: Where should I live in Mexico to make that dream a reality?
From quiet towns to busy neighborhoods where English is as widely spoken as Spanish, your options are as varied as the country itself. Fortunately, finding that ideal balance between an authentic local experience, expat community, and ease of transition is easier when you're aware of your options.
In this Pacific Prime Latin America article, we cover the 15 best places to live in Mexico for expats to help you narrow down your choices. You can also explore our Mexico Destination Guide for a comprehensive overview of the diverse country and what to expect as an expat residing there.
Life as an Expat in Mexico: What You Need to Know
As an expat considering living in Mexico, the cost of living, climate, safety, basic services, and culture are several key factors to take into account to settle into your new life with ease. Here's a brief overview of what it means to enjoy life as an expatriate in Mexico.
Cost of Living: Affordability and Housing Options for Expats
Mexico offers expats an affordable cost of living that is typically lower than many places in the US or in the West. Housing and food costs, in particular, tend to be on the cheaper side. Even major cities like Mexico City and Guadalajara have various housing options to suit different budgets.
Understanding Mexico's Diverse Climate 
Climate plays a pivotal role in the decision-making process for many expats considering Mexico their new home. Northern Mexico boasts a four-season climate characterized by hot, dry summers. Conversely, Southern Mexico stays warm to hot year-round with just two seasons: wet and dry.
The cold winters in the country's mountain towns also catch some expats off guard. One noteworthy aspect of residing in one of Mexico's top places is the influx of foreign residents during autumn and winter. These "snowbirds" leave in the summer, making spring the ideal time to move to Mexico.
Navigating Basic Services and Safety 
The quality of basic services like roads, water, and public transportation varies widely. Air pollution is common in some of Mexico's larger cities. Tap water isn't safe for consumption anywhere in Mexico. Safety can also be a concern, and the safety levels of places can fluctuate quickly.
Cultural Considerations for Expats 
Family and related duties are highly valued over punctuality in Mexican culture. Likewise, Mexican people enjoy connecting in person or through messaging apps. For those planning to stay for an extended period, learning and using Spanish can greatly enhance your expat experience in Latin America.
15 Top Cities to Reside in Mexico as an Expat or Digital Nomad
Mexico City, Mérida, Lake Chapala, Monterrey, San Miguel de Allende, Guadalajara, Puerto Vallarta, Tulum, Playa del Carmen, Cancun, Mazatlan, Guanajuato, Puebla, Queretaro and Los Cabos make our list of the best places for expats to call home in Mexico. Each has its own unique charm and appeal.
Mexico City – A One-Stop Hub for Expats and Digital Nomads
Expats who want to feel connected to the world while enjoying the Mexican way of life often choose to live in Mexico City. In fact, a large percentage of real estate sales (40% in 2022) in Mexico City are claimed by foreign buyers.
Often called CDMX (Ciudad de México), Mexico City is an energetic place with a unique blend of rich culture and history that's contrasted by concerns regarding safety and poverty, making it an alluring yet complex destination for expats.
Here professionals have career opportunities and can earn good salaries. Similarly, numerous international schools and world-class healthcare facilities are a plus for expats and their families. However, exploring different neighborhoods is imperative as safety levels can vary significantly.
While the cost of living in Mexico City is relatively high, it's still more affordable than in major US cities. The city's international airport also offers economical flight options to various destinations. With a population of 22.2 million people, Mexico City has the country's largest population.
And if you're already interested in this city, here's the 8 best neighbourhoods in Mexico City for expats in 2023.
Mérida – The Safest City in Mexico
Nestled inland on the Yucatán Peninsula only 40 minutes from the beautiful beach town of Progreso, Mérida is an emerging expat destination. Since the US Department of State considers Yucatán state to be the safest, residents can live life in Mérida without constant worry.
The city boasts a population of 780,000 (1.2 million in the metropolitan area) and serves as the Yucatán state's capital. Many foreigners travel to Mérida for a short visit and end up wanting to stay with all it has to offer.
Its cultural vibrancy makes up for the hot and humid weather, especially in the central district (Centro), which is busy with cultural events day and night. Those who can handle the weather can enjoy the city's myriad attractions, including complimentary activities for all ages.
Some key features of Mérida that make it popular for expat living include:
A robust public transportation system
A range of residential areas
Live theater
Symphony
Renowned restaurants
Churches
Neighborhood parks
Zócalo (main square)
It's worth mentioning that Spanish is widely spoken here, and you'll also hear the unique Mayan language. English is less common, giving you the opportunity to work on your Spanish and embrace local culture.
Lake Chapala – The Most Popular Place for Expat Retirees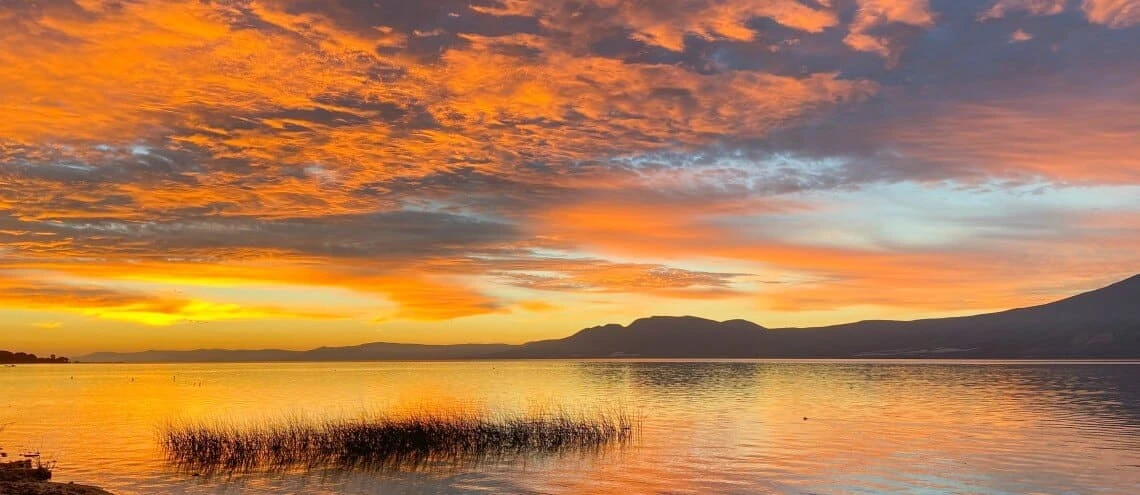 Basic amenities, local markets, and golf courses characterize Lake Chapala, which is easily Mexico's most popular place for expatriate retirees. Sitting right in the center of Mexico's Jalisco state, Lake Chapala offers a delightful mix of natural charm and laid-back comfort.
Lake Chapala is made up of numerous quaint villages, each of which has its own unique appeal. While Chapala is the largest town on the lake, the second largest town, Ajijic is where most expats reside. Overall, Lake Chapala's serene atmosphere and delightful weather are what draw people to stay.
The area is home to a robust expat community, with around 55,000 residents in the Lake Chapala municipality, and caters to evolving expat needs with a new world-class hospital and assisted living homes. The region attracts American, South American, English, and Mexican residents.
Likewise, many "snowbirds" flock to Lake Chapala to escape harsh winters. The friendly local community helps expats feel like they belong while various clubs and events cater to a wide range of interests. If you need a break from the quiet life, Guadalajara is a short 30-minute drive.
Monterrey – Mexico's Economic Powerhouse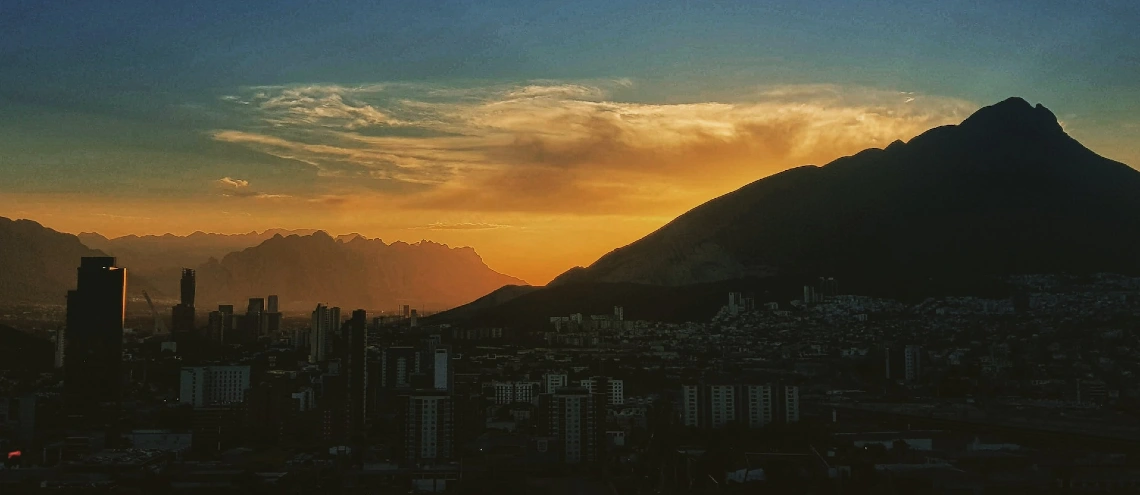 As Mexico's third largest city, Monterrey is a city full of opportunities for foreigners looking for a career. The city ranks as the country's second most important economic hub following Mexico City, attracting industries, international corporations, and, consequently, expats and their families.
Monterrey's strategic proximity to the US makes it a top choice among US expats, offering a higher quality of life and well-paying jobs. With 30 universities in the area, it boasts some of Latin America's leading educational institutions and a significant English-speaking population as a result.
Surrounded by the picturesque Sierra Madre Oriental mountain range, Monterrey is an excellent base for outdoor enthusiasts. The scenic Santa Lucia riverwalk connects green spaces within the heart of the city while Central Monterrey offers an ideal blend of Mexican culture and city life.
Monterrey makes for a comfortable and quiet place to live – especially for those with families – as it isn't a popular tourist destination. Plus, safety improvements make it appealing for both living and working. Comparable to Mexico City, Monterrey's cost of living comes with notably lower rents.
Further Reading: Your Guide to Working in Mexico as a Foreigner
San Miguel de Allende – A Cultural Haven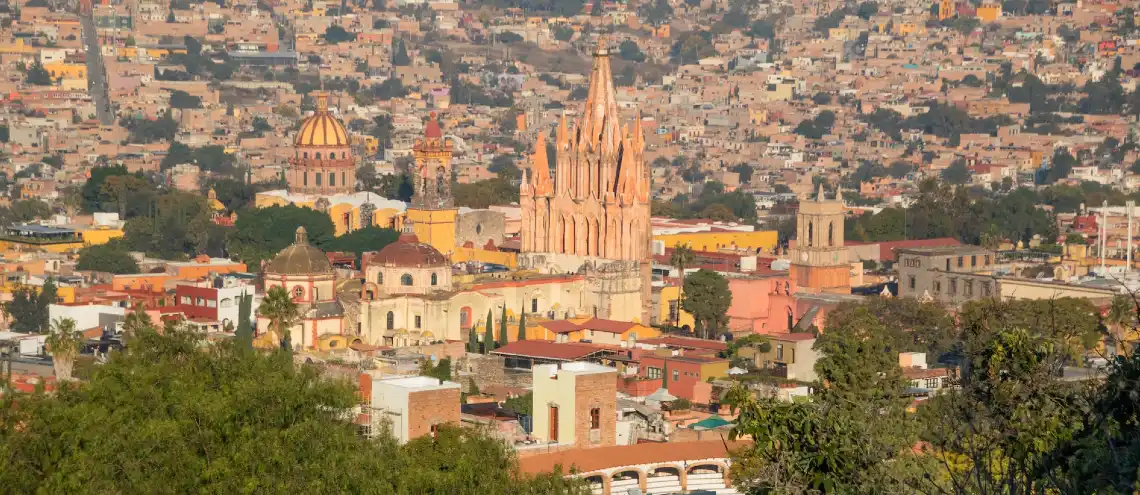 With its cobblestone streets, iconic central plaza (El Jardin), renowned art scene, and a vibrant expat community of around 10,000, San Miguel de Allende (SMA) is easily one of Mexico's best places to reside as an expat or digital nomad.
Situated in the Central Highlands of Guanajuato state, SMA is a captivating inland city that holds the UNESCO World Heritage site distinction. Its rich culture, bustling social calendar, and highly developed infrastructure cater to a refined English-speaking community.
A beautiful 4-hour drive northwest of Mexico City, San Miguel de Allende is an artistic haven that attracts creatives from across the globe. The heart of the town maintains its original historical architecture, preserving its Spanish colonial charm.
SMA's temperate climate and crisp, clean air throughout the year make for comfortable living, though temperatures in January and February can drop below freezing. Whether you're looking for a diverse culinary scene, an active expat community, or spring-like weather, SMA is worth considering.
Guadalajara – Mexico's Silicon Valley
Mexico's second largest city, Guadalajara is an enticing option for expats in search of warm weather, vibrant culture, and affordable cost of living. It offers both urban and suburban lifestyles, with an array of options from busy city life to calmer countryside.
Also known as Mexico's Silicon Valley, Guadalajara hosts numerous IT start-ups and technology manufacturers. Foreigners typically move to the area to either work in the thriving IT sector or to study at one of its technical institutes. Exceptional Wi-Fi and connectivity attract digital nomads too.
Guadalajara has some of Mexico's best food and nightlife options, as well as a robust healthcare system. Families moving to Mexico will enjoy Guadalajara's quieter neighborhoods, which feature spacious parks ideal for walking and hiking. Lake Chapala offers a peaceful getaway nearby.
Puerto Vallarta – The Best City for Medical Tourism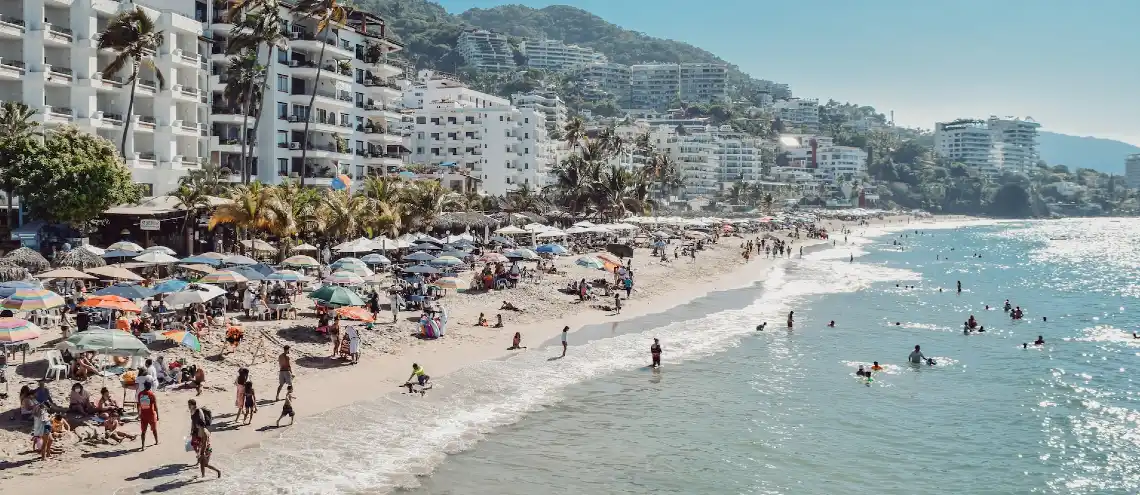 Puerto Vallarta has emerged as a popular destination for medical tourism, thanks to its world-class healthcare facilities, qualified medical professionals, and affordable medical rates. It's also known for its alternative therapies like natural medicine and acupuncture.
Boasting natural beauty and vibrant culture that attracts US and global expats, Puerto Vallarta is a tropical paradise located on the gorgeous Pacific Coast of Jalisco. This coastal town is also renowned for its beautiful beaches and tropical mountains, with a population of around 220,000.
The Hotel Zone, consisting of resorts, shopping centers, and a boardwalk, gives Puerto Vallarta a Californian feel that many US expats appreciate and tourists enjoy. For a slower pace, the trendy Old Town Puerto Vallarta boasts cobblestone streets, houses, and nightlife that LGBTQ+ people adore.
Despite hot and humid summers, Puerto Vallarta's overall living experience benefits from the warmth of the locals. The diverse range of neighborhoods cater to various lifestyles. Its main airport also offers local and international flights. What's more, flights to the US are only a few hours away.
Tulum – A Bohemian Beach Community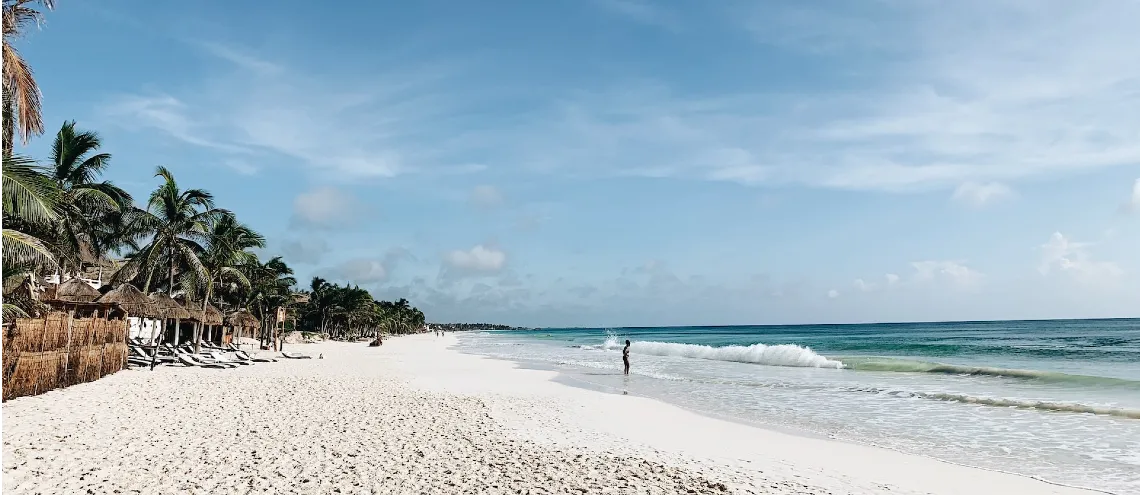 For those considering a move to Mexico, Tulum offers a Caribbean lifestyle without having to live on an island, making it an enticing choice for expats seeking an affordable yet idyllic coastal life. Its charm lies in its bohemian atmosphere and historical connections to the ancient Mayan culture.
One of the last cities constructed by the Maya civilization, Tulum sits to the south of Playa del Carmen in the Riviera Maya. Tulum has seen more and more people choosing to call it home in recent years, attracting expats looking for beautiful beaches, a serene atmosphere, and culinary delights.
Tulum's expat community is also developing thanks to its tropical climate and abundance of activities, such as snorkeling, scuba diving, and fishing. The town offers a laid-back lifestyle and has become popular with divers and yoga enthusiasts, in particular.
While modern accommodations are plentiful, Tulum still maintains its backpacker feel.
However, unreliable utilities and internet services, along with limited access to certain beaches controlled by private hotels, are some drawbacks worth noting – especially for digital nomads.
Playa del Carmen – The Best Digital Nomad Hangout
Playa del Carmen (or "Playa") is a lively coastal town that has become a favorite amongst digital nomads, expats, and retirees alike. Featuring stunning beaches and clear waters, it's an ideal place for comfortable seaside living – with affordability to match.
A convenient 40-minute drive from Cancun, Playa del Carmen offers a beachy lifestyle that centers around relaxation and adventure, with popular activities like boating, diving, fishing, and snorkeling. The diverse expat community makes for a rich cultural experience too.
Playa's downtown area, Fifth Avenue, is the hub of food, shopping, and nightlife. Thanks to the town's close proximity to Cancun's main airport, domestic and international travel is easy. Plus, Tulum and Cozumel are noteworthy attractions that can be reached in approximately one hour.
Cancun – The Best Place to Live for Expat Couples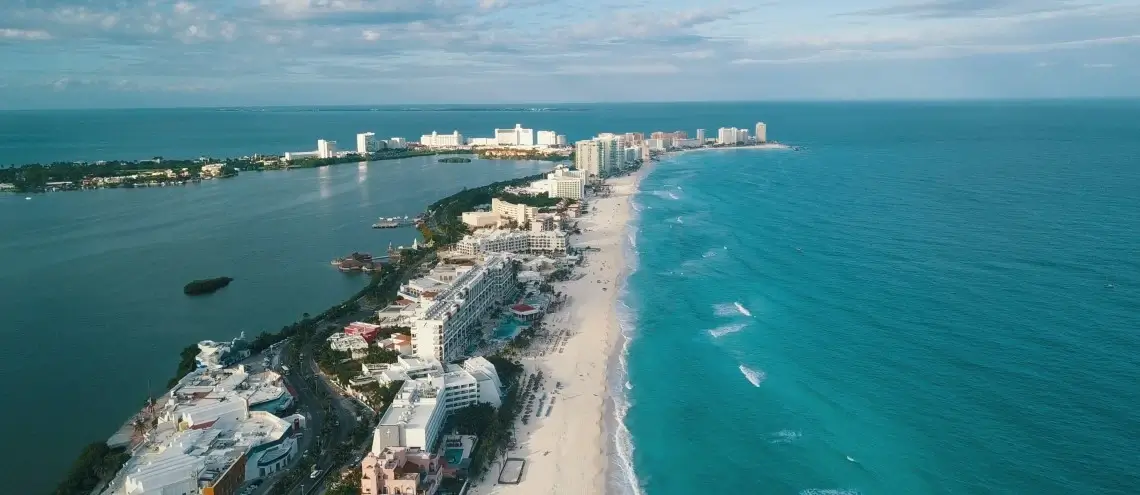 Cancun is ideal for couples and expats alike with its tropical allure and safe environment. Often associated with its vibrant Spring Break scene and beautiful beaches, Cancun holds more than meets the eye for expats seeking an ideal hub.
While it undoubtedly offers thrilling nightlife and accommodations for every budget, it's also a haven for young digital nomads. Here, you'll find plenty of opportunities to network, unwind, and explore.
With a constant influx of tourists, you could meet new people at any time of year. Beyond the party scene, Cancun boasts private tours to help you discover its surroundings and the rest of Mexico's noteworthy attractions.
As a perhaps unexpected romantic paradise, Cancun is an especially great place for couples looking to make lasting memories. From stunning beaches to snorkeling adventures and even crafting your own chocolate from scratch, Cancun provides an abundance of activities.
Mazatlan – A Mexican Riviera for Retirees
Mazatlan's charm, recreational opportunities, and English-speaking locals make it an attractive destination for retirees and artists alike. This coastal city boasts historical buildings, cliffs, and top-notch hotels, earning it the title of the Mexican Riviera.
Situated at the meeting point of the Sea of Cortez and the Pacific Ocean, Mazatlan offers a diverse expat experience. With a bustling nightlife scene in Zona Dorada, stunning waterfront dining, and a cost of living lower than in many Mexican cities, it caters to various lifestyles.
Affordable housing, with one-bedroom apartments ranging from USD $400 to $1000 per month, makes Mazatlan an attractive destination. The climate in Mazatlan is also less humid than other Pacific-facing locales. Similarly, accessible public transportation via buses and taxis ensures easy exploration.
For retirees, Mazatlan's safety, excellent healthcare facilities, and a 20-mile beachfront offer a tranquil lifestyle. Mazatlan combines affordability with coastal beauty, making it an enticing choice for expats seeking a diverse and vibrant community by the sea.
Guanajuato – Where History Meets Affordability
Situated in the Colonial Highlands of Mexico, the hidden gem of Guanajuato attracts expats with its rich blend of culture, history, and affordability. The city's architectural heritage has earned it UNESCO World Heritage status, with cobblestone streets, colorful buildings, and ancient churches.
Guanajuato has plenty of festivals and events to join throughout the year, such as the famous International Cervantino Festival. One of the major draws for expats considering Guanajuato as their new home is its affordable cost of living, which is significantly less than many other Mexican cities.
For instance, you can find one-bedroom apartments for as low as $400 per month. Additionally, the city enjoys mild winters and pleasant summers, ensuring a comfortable living experience year-round. The diverse population and dynamic arts scene ensure there's always something interesting.
Safety in Guanajuato is also worth mentioning, making it an ideal choice for expats looking for a peaceful way to live in the heartland of Mexico.
Puebla – A Charming and Cultural Oasis
Puebla, nestled at a higher altitude, attracts expats with its rich cultural history and stunning architecture. The UNESCO Heritage site offers an eclectic combination of activities, such as museums, theaters, parks, and even music festivals.
The city's mild climate throughout the year is also ideal for outdoor enthusiasts. Affordability makes Puebla stand out, with its balanced cost of living compared to cities such as Mexico City. The monthly rent for a studio apartment costs around USD $300 to USD $600 on average.
Puebla's efficient public transportation system, combined with pedestrian- and cyclist-friendly infrastructure, makes navigating the area easy. Along with its cultural and culinary scene, the city's low crime rate makes it a safe and inviting destination for expats moving for work or with family.
Queretaro – A Solo Traveler's Dream
Situated in central Mexico, Queretaro is a city that blends historical charm with contemporary convenience, making it an attractive choice for expats. Its historic center boasts captivating colonial architecture, while the city offers a modern infrastructure with efficient public transportation.
Safety is an enticing feature of Queretaro, as the city often ranks as one of Mexico's safest places. Consequently, expats living here can enjoy a secure environment. The cost of living in Queretaro is also on the affordable side, with apartments averaging around USD $400 to USD $800 per month.
Solo travelers and students are drawn to Queretaro with its over 1,400 designated monuments and rich historical background offering endless opportunities for exploration. While summers can get home, Queretaro's wealth of historical attractions and reputation for safety make it worthwhile.
Los Cabos – A Sunny Paradise for US Expats
Conveniently located at the head of Mexico's Baja California peninsula, Los Cabos is a dream turned into reality for many US expats who are looking for safety, affordability, and modern conveniences. It comprises Cabo San Lucas and San José del Cabo, which easily connect via the Corridor highway.
Sitting on the west, Cabo San Lucas is known for its nightlife, entertainment, and marina. San José del Cabo, which sits on the east, is famous for its art and food scene. Both towns feature world-class medical facilities, family-friendly resorts, and outstanding spas.
As a whole, Los Cabos is renowned for its immaculate beaches. In fact, some of its 22 beaches boast Blue Flag environmental recognition. Here you'll get to experience both deserts and lush surroundings, thanks to the UNESCO-protected Sierra de la Laguna Biosphere Reserve mountain range.
The nature and wellness destination is more affordable than many US citizens and offers a better quality of life for much less than back home. Safety is another noteworthy feature of living in Los Cabos, with a close community and lively social scene that helps residents feel secure.
Conclusion
From Mexico City to Los Cabos and beyond, Mexico is home to a wide range of destinations for expats looking for a different way of life. For US expats, in particular, living south of the border is more affordable for the quality of life you get.
As a diverse country with various activities, attractions, climates, and communities, it's imperative to compare the factors that are important to you before choosing your next base. It's also advisable to secure a health insurance plan through a reputable broker like Pacific Prime Latin America.
To learn more about the visa application process and to receive more guidance on your expat journey, be sure to check out our article on "How To Apply For Visas". With the proper preparations, your transition to living in Mexico can be seamless.
Contact us for impartial insurance advice and a free plan comparison today!
Frequently Asked Questions
Where do most foreigners live in Mexico?
Lake Chapala hosts the largest community of US expats globally. Foreigners from all walks of life are attracted to the beautiful homes and natural attractions surrounding Mexico's largest lake.
What's the safest place in Mexico for expatriates?
Mérida is regarded as the safest city in Mexico for expats. This is largely due to its distance from border towns and overall nice and quiet atmosphere throughout the year, including high season.
Is Mexico a good choice for expats?
Mexico is an enticing option for expats, digital nomads, and retirees looking to live abroad. The country is known for its affordability, delicious cuisine, generally comfortable weather, natural attractions, and high quality of life.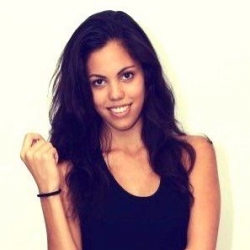 Latest posts by Jantra Jacobs
(see all)