The 13 Best Neighborhoods For Expats to Live in Mexico City in 2023
With over a million expats estimated to live in the region, Mexico is a popular destination for those looking to live abroad. US expats, in particular, are drawn to the region both for work and retirement.
As the capital of the region, Mexico City offers an ideal blend of friendly locals, cultural traditions, and a comfortable lifestyle. The lower cost of living makes Mexico City a good and affordable option, while still being a safe place to live.
In addition to the city's numerous attractions, its convenient location makes it easy to access beaches, forests, deserts, and more. If you're looking for the best neighborhoods to live in Mexico City, this Pacific Prime Latin America article has got you covered.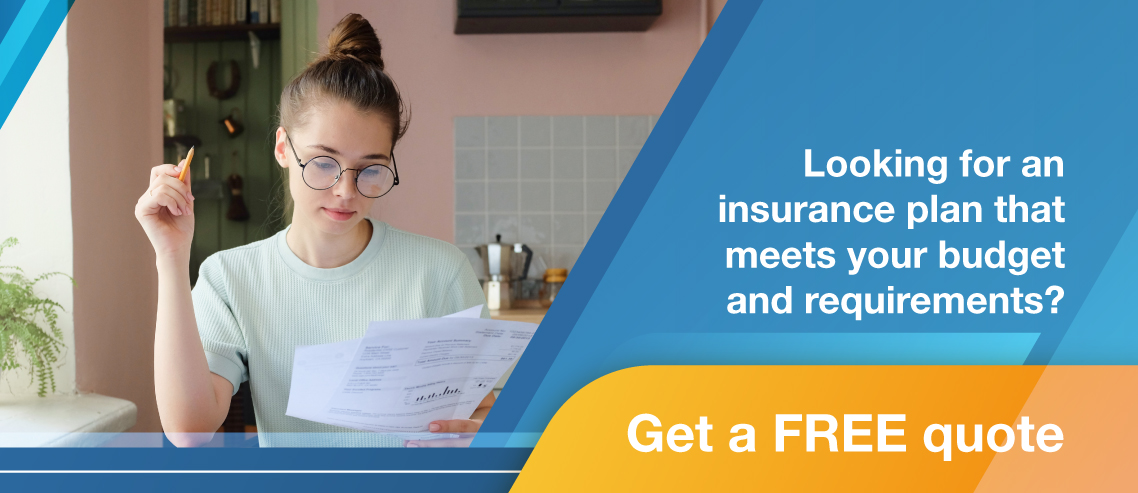 Mexico City's Neighborhood Guide
Did you know that there are over 300 neighborhoods in Mexico City alone? While exploring these neighborhoods can be a lot of fun, you'll probably want to narrow down your options if you're looking for a place to rent or live.
Our Ranking Criteria
Beauty is in the eye of the beholder, but when deciding whether a place is great for expats to live, several important factors must nonetheless be considered:
1. Career Opportunities
For expats, getting a good job is often a top concern. A great location will have a wide variety of employment options, a strong economy, and chances to advance your career in different fields.
Signs of a healthy job market can include a high concentration of multinational corporations and global organizations, and policies that encourage business growth.
2. Quality of Life
Having a good quality of life is very important for expats. Things like being safe, getting good healthcare, education, infrastructure, and having access to fun things to do are key to enjoying life abroad.
A place with a lively social atmosphere and community that makes you feel welcome can really improve the experience as an expat.
3. Cost of Living:
For expats, affordability is a big factor to consider. Housing, utilities, transportation and daily costs should be fairly priced and match the earning potential. When the cost of living is manageable, expats can have a good lifestyle without too much financial stress.
4. Safety and Security
Feeling secure is extremely important for expats. A place with low crime, political stability, and a fair justice system gives expats confidence and lets them concentrate on their work and life without too much anxiety.
5. Education and Healthcare
Having access to good schools and medical care is vital especially for expats with family. International schools with respected programs and health systems that give broad coverage and have English-speaking doctors are really important.
6. Language
Even if you are interested in learning the local language, it's still very important that English is well understood in your new home. Luckily for expats from the US, in many other places English is either an official language, or the locals generally have at least a reasonable command of English.
7. Size of the Expat Community
Having a sizable and friendly expat community means you will get great support as an expat yourself. The locals may be friendly and helpful, and they usually are, but the people who truly understand the needs and feelings of expats are the expats themselves.
In the end, the suitability of a location for expats to live in depends on individual preferences, career objectives, and personal circumstances. Taking these important criteria into account enables expats to make well-informed choices that they will not later regret.
Our List of 13 Best Neighborhoods For Expats in Mexico City
Without further ado, here are 13 of the best neighborhoods in Mexico City, in no particular order.
Roma – The Trendy Yet Affordable Neighborhood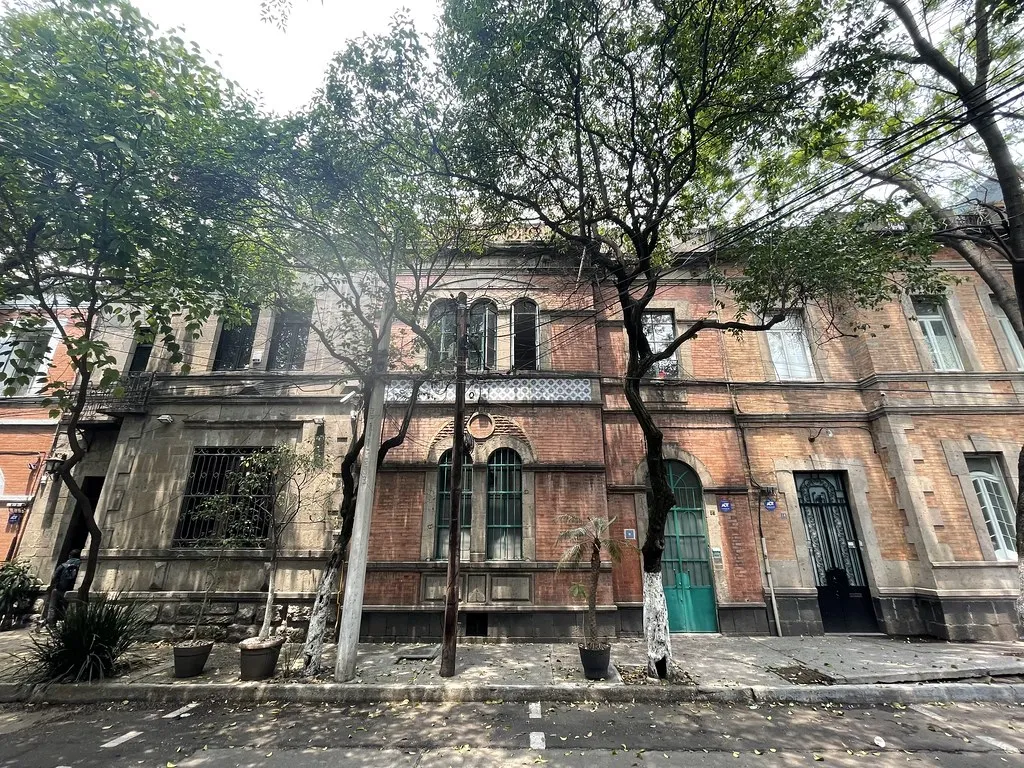 For expats who appreciate art, music, and all things creative, Roma is the place to be. With its abundance of art galleries, theaters, independent cinemas, and cultural centers, there's never a shortage of cultural experiences to indulge in.
But Roma is also a feast for the eyes architecturally. Walking along the neighborhood's tree-lined streets reveals a delightful mix of Art Nouveau, Art Deco, and neoclassical architecture. The beautifully restored facades, parks, and plazas create an enchanting and visually captivating atmosphere.
There are plenty of parks and green spaces where residents can unwind, engage in physical activities, and simply enjoy the great outdoors. The iconic Parque Mexico and Parque España are popular gathering spots, providing a refreshing escape from the hustle and bustle of the city.
People from all over the world are drawn to this neighborhood, creating a sense of camaraderie, support, and countless opportunities for cultural exchange. Expats will feel right at home and quickly find themselves integrated into the local community.
Roma is especially well-suited for adventurous and socially-oriented young people embarking on an international venture.
Condesa – The Neighborhood for the Artist in You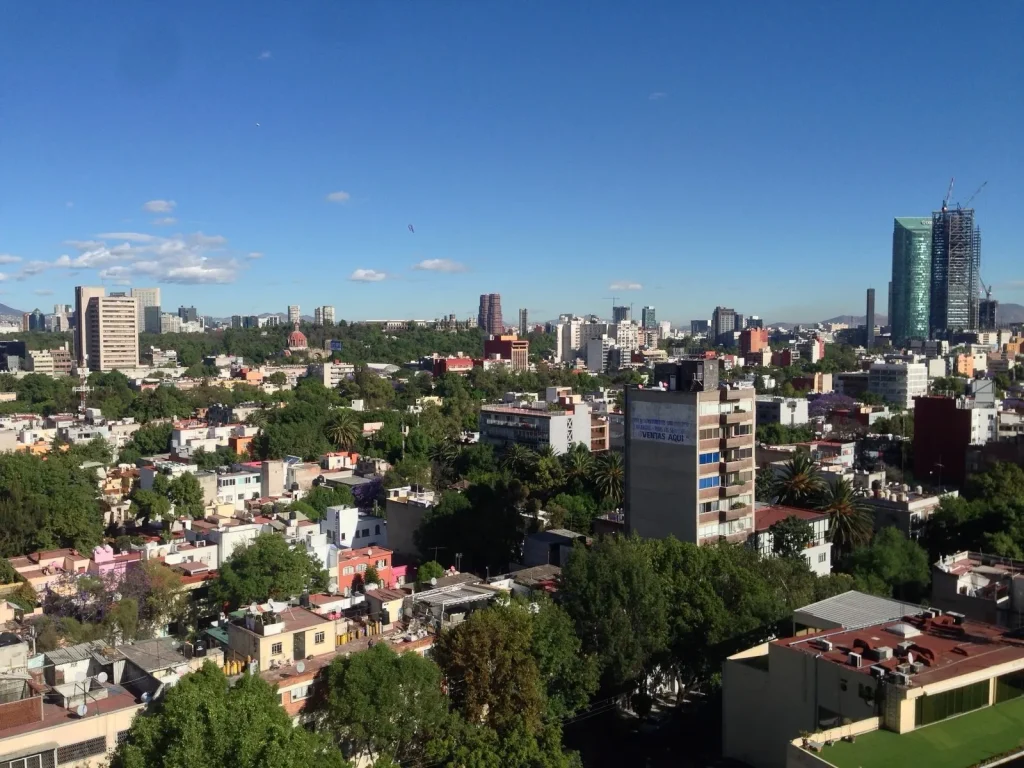 Condesa exudes a bohemian and trendy vibe that attracts expats seeking a vibrant and artistic lifestyle. The place is brimming with hip cafes, stylish bars, fashionable boutiques, and art galleries, creating a lively and culturally stimulating environment that will keep you energized and inspired.
The area showcases a delightful mix of Art Deco, neoclassical, and modernist styles. As you wander along its tree-lined streets, you'll be captivated by the architectural marvels and meticulously restored facades, giving the neighborhood a distinct charm and an undeniably aesthetic allure.
Condesa is also a hub of cultural and social events throughout the year. From art exhibitions and music festivals to food fairs and open-air markets, there's always something happening. Expats have countless opportunities to immerse themselves in the vibrant local scene.
Condesa is widely regarded as one of the safest neighborhoods in Mexico City, giving expats a sense of security and peace of mind. With its walkable streets, well-maintained sidewalks, and dedicated bike lanes, getting around on foot or by bicycle is convenient.
Condesa is an attractive new home for adventurous individuals seeking an international opportunity with an optimal work-play balance.
Polanco – The Beverly Hills of Mexico City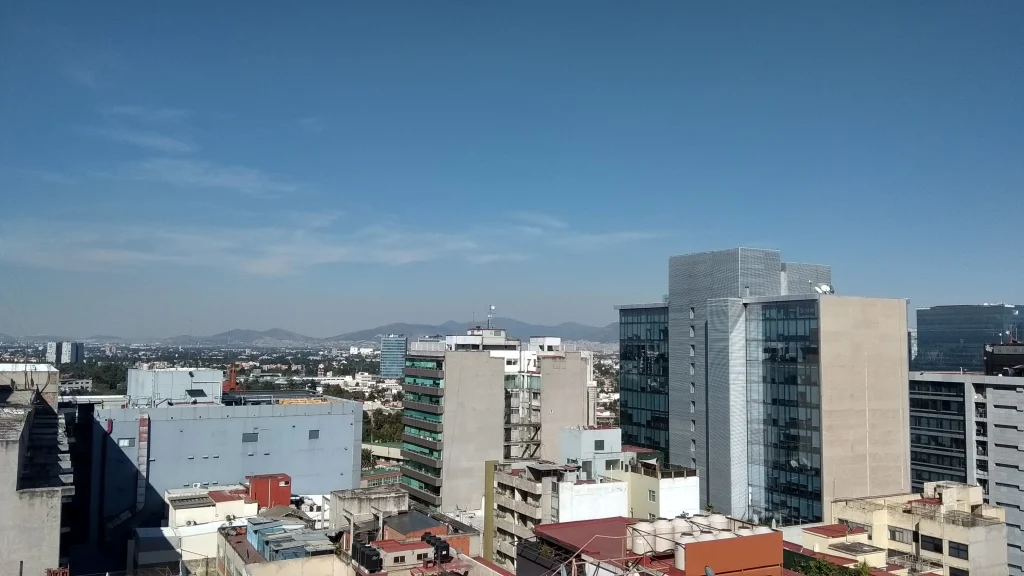 Renowned for its upscale ambiance, Polanco is the perfect destination for expats seeking a luxurious lifestyle. The elegant residential areas, high-end boutiques, upscale restaurants, and designer shops create an atmosphere of sophistication and opulence that will make you feel like royalty.
The area is home to renowned museums, art galleries, and theaters, all contributing to a vibrant cultural scene. From the iconic Museo Soumaya and Museo Jumex to captivating performances at the Teatro Polanco, you'll have endless opportunities to experience world-class art and culture.
From gourmet restaurants to trendy cafes, a wide array of culinary delights from around the world await you. With Polanco's closeness to Chapultepec Park, one of the largest urban parks globally, you'll have a serene oasis for outdoor activities, picnics, and leisurely walks right at your doorstep.
Enhanced security measures and a robust police presence contribute to creating a safe living environment. You'll also find everything you need conveniently located within the neighborhood, making daily life comfortable and hassle-free.
Polanco is especially well suited for expats who enjoy the finer things in life and can afford a luxurious lifestyle.
Coyoacan – The Bohemian and Historic Neighborhood
As the birthplace of the iconic Mexican artist Frida Kahlo, the neighborhood is steeped in artistic legacy. Museums, art galleries, and cultural centers abound, offering expats the opportunity to fully immerse themselves in Mexico's vibrant arts and cultural scene.
Coyoacan's cobblestone streets, colorful colonial houses, and lively plazas contribute to its charming and picturesque ambiance. The neighborhood exudes a relaxed and laid-back atmosphere, making it an inviting and delightful place to call home.
Nature lovers will find solace in Coyoacan's parks and green spaces. From the iconic Frida Kahlo Park (formerly known as Viveros de Coyoacan) to the serene Xicotencatl Park, there are plenty of areas to connect with nature and take leisurely strolls. The beauty of nature is right at your fingertips.
From mouth-watering street food to trendy cafes and upscale restaurants, you'll embark on a culinary journey that will satisfy your taste buds and leave you craving more. The neighborhood also boasts excellent links to the metro and bus routes, allowing residents to navigate the city with ease.
Expats who value calmness, intellectualism, and cultural immersion will find themselves right at home in Coyoacan.
Juarez – The Neighborhood That Never Sleeps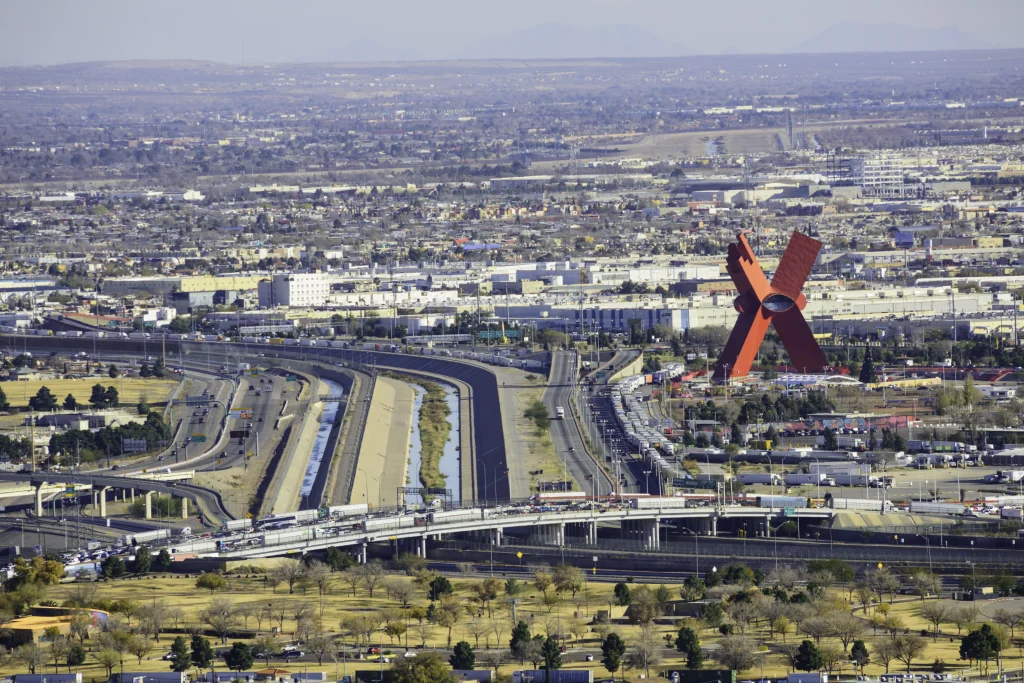 With excellent transportation connections and close proximity to major business districts, cultural landmarks, and entertainment venues, Juarez is an exciting melting pot of cultures, attracting expats from around the globe.
Colonial-era buildings, tree-lined streets, and picturesque squares create a nostalgic and enchanting atmosphere begging to be explored. Wander through the neighborhood, and sooner or later you are bound to stumble upon hidden gems that will leave you in awe.
Juarez is a hub of artistic expression, with art galleries, design studios, and creative spaces at every turn. When the sun sets, Juarez comes alive with a vibrant nightlife. Bars, clubs, and live music venues fill the streets, offering a plethora of entertainment options.
Despite being an urban setting, Juarez doesn't forget about nature. Nearby parks, such as Alameda Central and Parque España, offer opportunities for outdoor activities, picnics, and moments of relaxation amidst the bustling city ambiance.
Young, adventurous expats who treasure diversity, creativity, and cultural explorations in a dynamic environment will fall in love with Juarez in no time.
Zona Rosa – The Multicultural Neighborhood of Multicultural Neighborhoods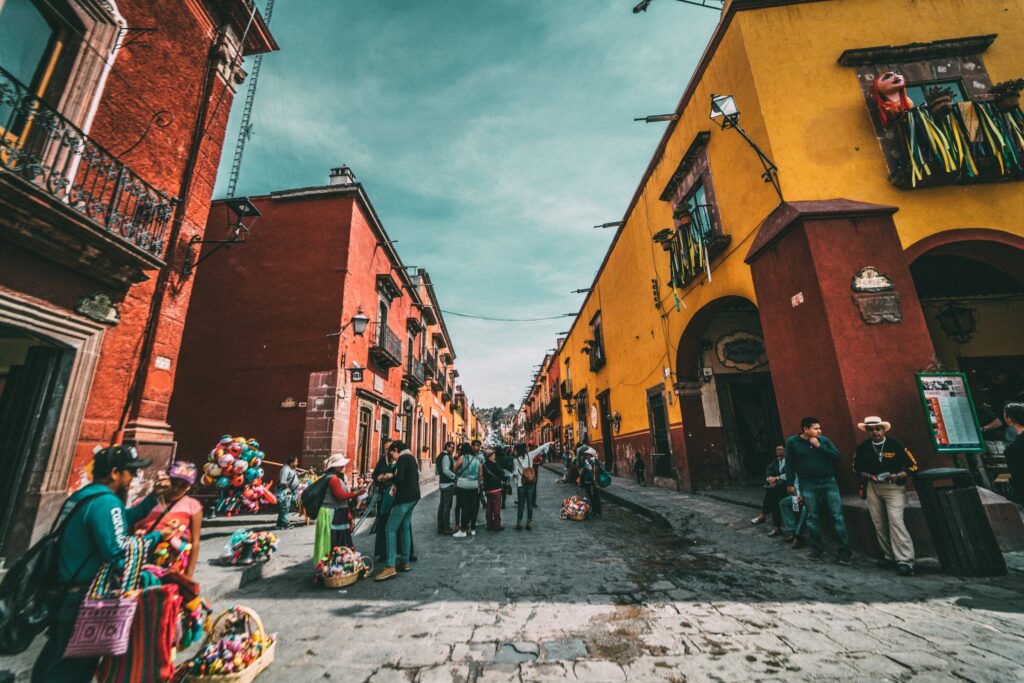 From morning till night, the neighborhood hums with activity, offering a diverse range of shops, restaurants, bars, clubs, and entertainment venues. There you can dive into the energetic ambiance, embrace the dynamic city life, and make every day an adventure.
The neighborhood attracts a diverse expat community. Expats from various backgrounds and nationalities come together in Zona Rosa. With international restaurants, cultural events, and social groups, the neighborhood exudes a cosmopolitan vibe that welcomes everyone with open arms.
When the sun sets, Zona Rosa truly comes alive with its thriving nightlife and entertainment offerings. The neighborhood hosts numerous bars, clubs, live music venues, and theaters, ensuring there's never a dull moment.
Zona Rosa's central location within Mexico City means easy accessibility and excellent connectivity to other parts of the city. The neighborhood offers international schools, medical facilities, English-speaking professionals, and expat-oriented services, ensuring a seamless transition.
Young professionals, digital nomads, and party-goers who seek an exciting lifestyle, cultural diversity, and plenty of entertainment options will not regret choosing Zona Rosa for the next phase of their lives.
San Rafael – Where Antiquity Meets Modernity
San Rafael exudes a unique historical charm, with beautifully preserved architecture from the late 19th and early 20th centuries. Expats can admire the neighborhood's architectural beauty, characterized by grand mansions, elegant facades, and tree-lined streets.
Despite its central location in a bustling city, San Rafael offers tranquil green spaces where expats can unwind and connect with nature. Parks like Alameda Central and Plaza Rio de Janeiro provide peaceful spots for recreation, picnics, and leisurely walks.
Safety is a priority in San Rafael, and expats can feel secure in this neighborhood. Security measures and a vigilant police force contribute to a sense of safety and peace of mind for residents.
San Rafael offers a comprehensive range of amenities and services. The neighborhood features international schools, medical facilities, supermarkets, and recreational amenities, ensuring that expats have convenient access to essential services and comforts.
Young professionals, artists, students, and everyone else who treasure creativity and culture over luxury and look for a place with a relaxed and bohemian vibe will hold San Rafael dear to their heart.
Narvarte – The Neighborhood For Families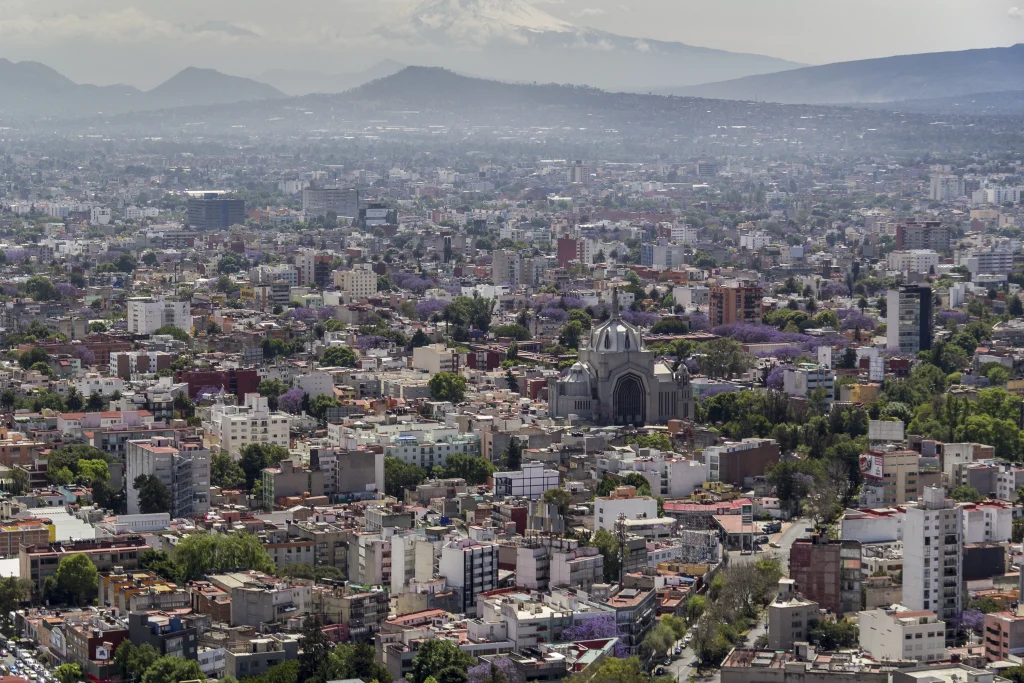 Narvarte is known for its inclusive community. Expats living in Narvarte can seamlessly integrate into the neighborhood's diverse fabric and experience a lively and welcoming atmosphere. The community-oriented nature of Narvarte encourages connections with both locals and fellow expats.
Despite its urban setting, Narvarte offers green spaces and parks where expats can relax and engage in outdoor activities. Parque Delta, Parque de los Venados, and Parque Xicoténcatl are popular parks in the neighborhood that provide opportunities for recreation, exercise, and leisurely walks.
What's more, Narvarte is close to numerous cultural and historical attractions in Mexico City. Expats can easily visit landmarks such as the Frida Kahlo Museum, the National Museum of Anthropology, and the historic center of the city, immersing themselves in Mexico's rich cultural heritage.
Narvarte has a well-developed public transportation network. The neighborhood is served by metro stations, bus routes, and other transportation options, facilitating easy travel within Mexico City and beyond for expats.
Families with children, retirees, and expats who prefer a quieter life and treasure access to excellent schools and healthcare facilities in a safe environment cannot go wrong by choosing Narvarte.
Centro Histórico – The Heritage Neighborhood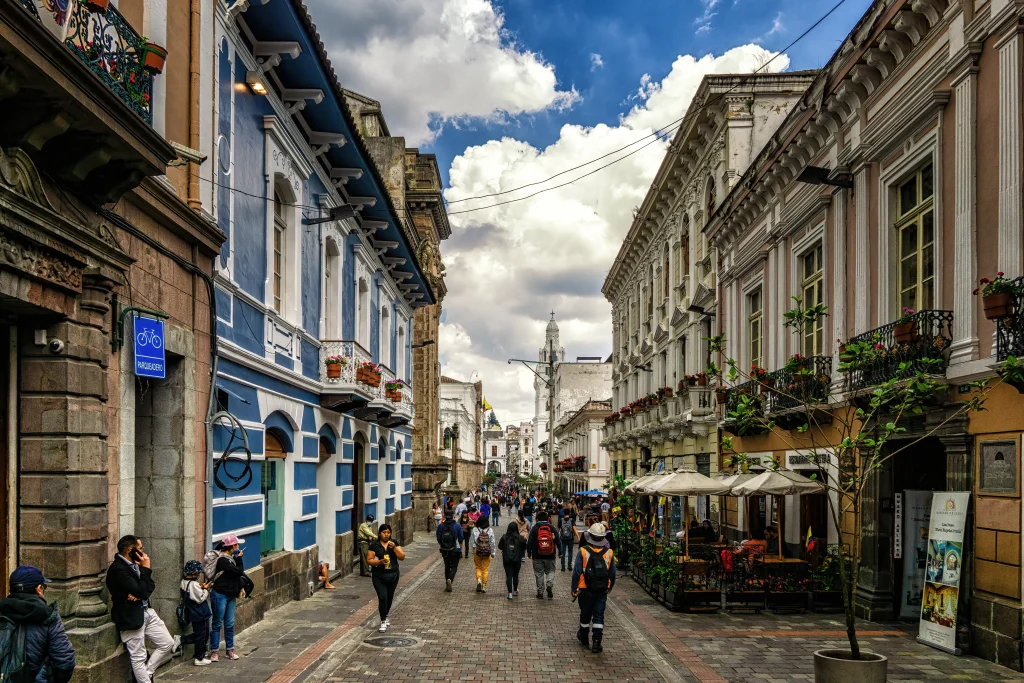 Centro Histórico boasts stunning colonial architecture, iconic landmarks, and UNESCO World Heritage sites such as the Zócalo (Main Square), Metropolitan Cathedral, and Palacio de Bellas Artes. If you want to immerse in Mexico's history and cultural richness, Centro Histórico is the place to be.
The neighborhood is home to numerous art galleries, museums, theaters, and cultural centers, offering expats a wealth of creative and intellectual stimulation. What's more, Centro Histórico is also famous for its lively street life. Expats can explore bustling markets and the street art scene.
Countless boutiques, and markets where expats can find unique handicrafts, textiles, jewelry, and souvenirs have set up shop in Centro Histórico. The Mercado de la Ciudadela and Mercado de San Juan are particularly popular destinations for those seeking traditional Mexican products.
Significant efforts are being made to preserve the area's historical and architectural charm. Numerous buildings have been revitalized, adding to the overall beauty and allure of Centro Histórico.
Expats who love history, culture, and the arts and look to live an exciting lifestyle in the heart of Mexico City will find Centro Histórico irresistible.
San Angel – The Upscale and Tranquil Neighborhood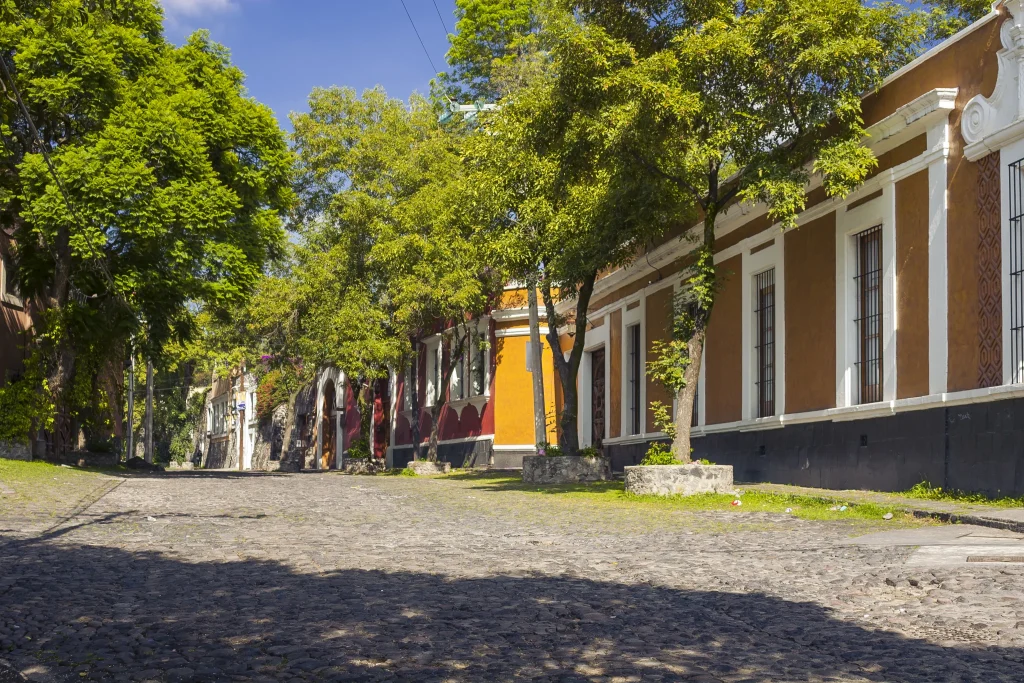 San Angel exudes a charming and tranquil ambiance. Its well-preserved colonial architecture, picturesque cobblestone streets, and colorful houses create a nostalgic and visually pleasing setting.
San Angel has a unique bohemian vibe. Expats will find a lively community of artists, writers, musicians, and intellectuals, fostering an atmosphere of creativity and inspiration. The neighborhood's laid-back ambiance encourages a relaxed and artistic way of life.
The Bazar del Sábado (Saturday Bazaar) stands out as a popular attraction where expats can find unique handicrafts, artwork, textiles, and jewelry. These markets provide an excellent opportunity for expats to shop for authentic Mexican products and support local artisans.
The neighborhood is home to the picturesque Plaza San Jacinto and the peaceful Parque de la Bombilla, offering residents a serene environment to relax, exercise, and enjoy nature. Expats can take leisurely strolls or have picnics in these charming green areas.
Expats can conveniently visit attractions including the Frida Kahlo Museum (Casa Azul), the University City (Ciudad Universitaria), and the National Autonomous University of Mexico (UNAM), all of which are situated a short distance from the neighborhood.
Expats, particularly retirees and families with children, who look for an upscale and tranquil neighborhood with excellent amenities and a first-class education and healthcare system will wish they had come to San Angel earlier.
Del Valle – The Neighborhood with a Young Vibe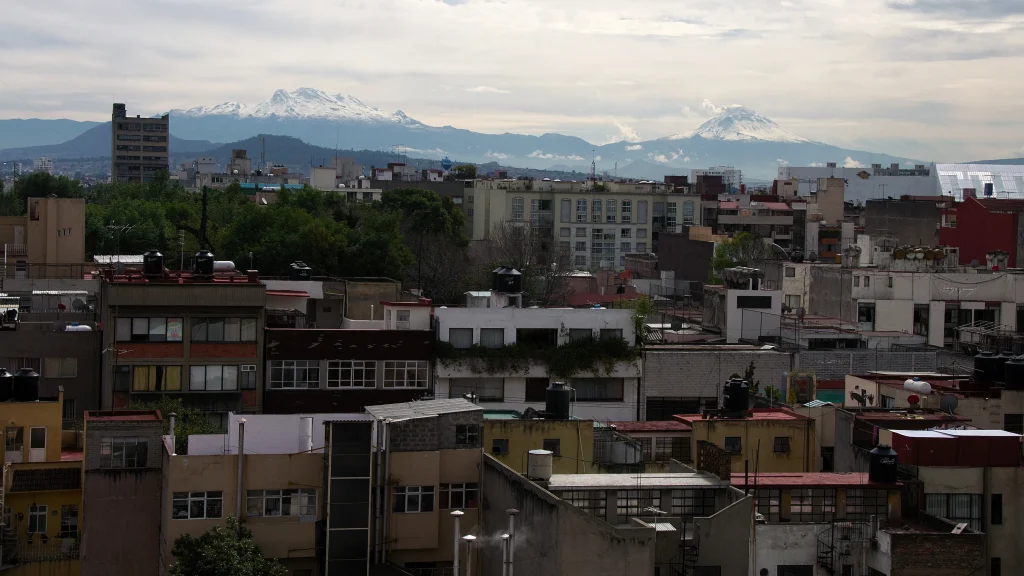 Del Valle is known for its relatively high level of safety and security. The neighborhood benefits from a strong presence of security forces and an engaged community that contribute to maintaining a safe environment.
The neighborhood is home to reputable educational institutions, including international schools and language centers. Expats with families can find excellent educational opportunities for their children.
Del Valle is home to theaters, art galleries, museums, and cultural centers, providing expats with ample chances to explore Mexican arts and culture. Parks including the Sunken Park and the Mariscal Sucre Park, and sports facilities allow expats to engage in recreational activities.
Del Valle is ideal for young professionals and couples, and expats with young families, who are looking for a comfortable and safe neighborhood in the city to settle down, nurture a career and raise a family.
Santa Fe – The Commercial and Financial Neighborhood
Santa Fe is a major business and financial district in Mexico City where numerous corporations are located. This makes it ideal for career-minded expats. Moreover, Santa Fe is home to or near numerous reputable universities and schools including the New Mexico Highlands University.
But life in Santa Fe is not just about work and study alone, because the area also offers a wide array of shopping options, including upscale malls, boutiques, and international brands. The neighborhood also boasts entertainment venues such as cinemas, theaters, and cultural centers.
Nestled in the foothills of the Sierra de las Cruces mountain range, Santa Fe offers picturesque views and opportunities for outdoor activities. Expats can enjoy hiking, biking, and exploring nature trails in close proximity to their homes.
Going places is easy too, because Santa Fe boasts efficient public transportation systems, including bus routes and a dedicated Bus Rapid Transit (BRT) system, making travel within the neighborhood and to other parts of Mexico City convenient and easily affordable.
Anzures – The Low-Key Affluent Neighborhood
Anzures exudes a charming, laid-back residential ambiance with its tree-lined streets and well-maintained parks. The neighborhood's aesthetic appeal and tranquil environment offer a delightful escape from the bustling city, creating a peaceful and pleasant living environment for expats.
Situated near the vibrant areas of Polanco and Reforma, expats residing in Anzures have easy access to a plethora of amenities, including shopping centers, restaurants, cultural attractions including the Museo Nacional de Antropología and the Museo de Arte Moderno, and entertainment venues.
Moreover, Anzures is conveniently located near several embassies and consulates, making this neighborhood particularly well suited for expats working in diplomatic or international organizations.
Anzures also benefits from a well developed public transportation network. The neighborhood is well-served by metro stations, bus routes, and bike-sharing systems, making it easy for expats to navigate the city and explore different areas of Mexico City with convenience.
For business people, diplomats, and retirees who can afford a luxurious lifestyle, Anzures should be on the shortlist.
Conclusion
Now that you know about the top neighborhoods for expats in Mexico City, which one are you inclined to visit or live in?
Keep in mind that like most big cities around the world, Mexico City has neighborhoods that are great and others that are best avoided. Remember to be aware of your surroundings, but don't forget to have fun too!
It's easier to enjoy life when you know your health needs are taken care of, especially in the event of an emergency.
Are you looking for travel insurance or expat health insurance in Mexico but not sure where to begin? Pacific Prime Latin America can compare health insurance plans to get the best health insurance in Mexico for your needs and budget.
Contact us for impartial advice or a free quote today. And don't forget to check out the other excellent articles in our blog, such as 15 Best Places To Live in Mexico For Expats in 2023 and The 15 Best Places To Live in Costa Rica For Expats in 2023!
Frequently Asked Questions
What is the cost of living like for expats and digital nomads in Mexico City?
Mexico City offers an attractive mix of affordability, convenience, and feature comfort. Estimates put the average monthly total cost of living for an expat or digital nomad at around USD $1,500-2,500. Even the lower end of that range is very comfortable for a basic lifestyle.
What is the visa process like for foreigners wanting to stay in Mexico?
For stays above 180 days and under 4 years, you'll need to apply for a temporary resident visa (TRV). Requirements include proof of income or financial stability, a criminal record check, and more. However, You must separately apply for a work permit to work in Mexico.
What is private healthcare like in Mexico City?
Private healthcare in Mexico City is well developed with several excellent private hospitals and clinics catering to expats. Private healthcare services in Mexico City generally cost about 50-75% of what they would cost in the US. Some procedures can be even more affordable.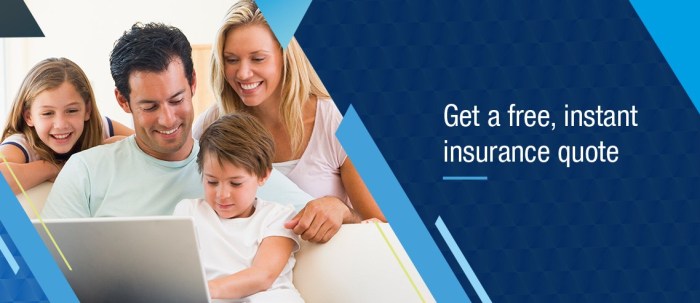 Latest posts by Martin Lee
(see all)